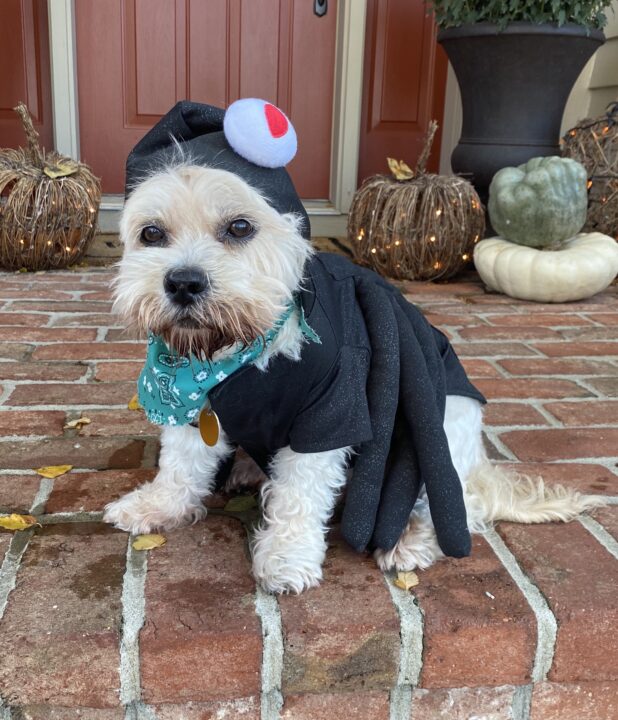 Hello and happy "Halloween is on its way"!
This is a photo of our sweet little Lhasa Apso, Hoosier, in his Trick-or-Treat costume for Halloween. This is a spider costume, and he hated wearing it, look at his face, no smile in sight, only disgust! The eight legs only looked like legs when he stood up and was walking, he knew that, and sat when I pulled out the camera. Hoosier chewed off one of the eyeballs, I suppose in an effort to "kill" or get rid of the outfit once and for all.
Oh, how we miss him.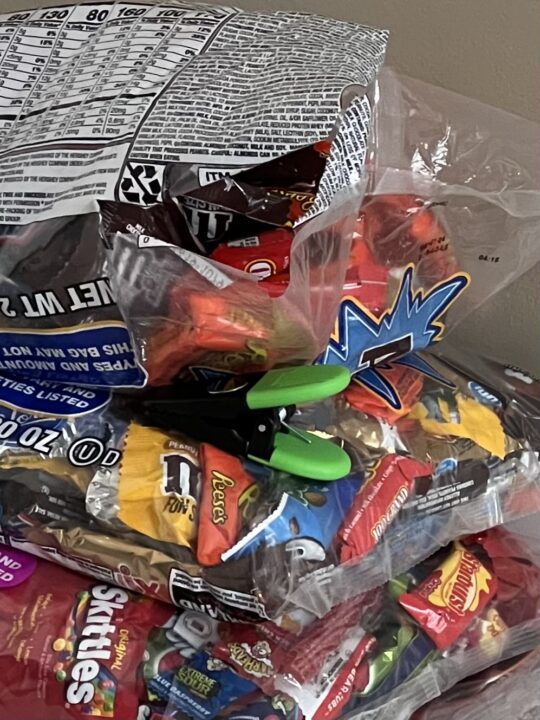 By the way, someone's already been in the Halloween candy bags…and I can't even blame the dog!
Enough said 🙁
Just this past weekend, our lake hosted their first Trick or Treat for the lake's residents and open to nearby communities. We were surprised and excited by this, little costumed children were everywhere, escorted by parents and grandparents in golf carts, three wheelers, and hay wagons…. how fun is that?!
Long ago, as when I went trick or treating, we had to walk. Walk or don't go, that was our only option. And NOW the kids have better candy!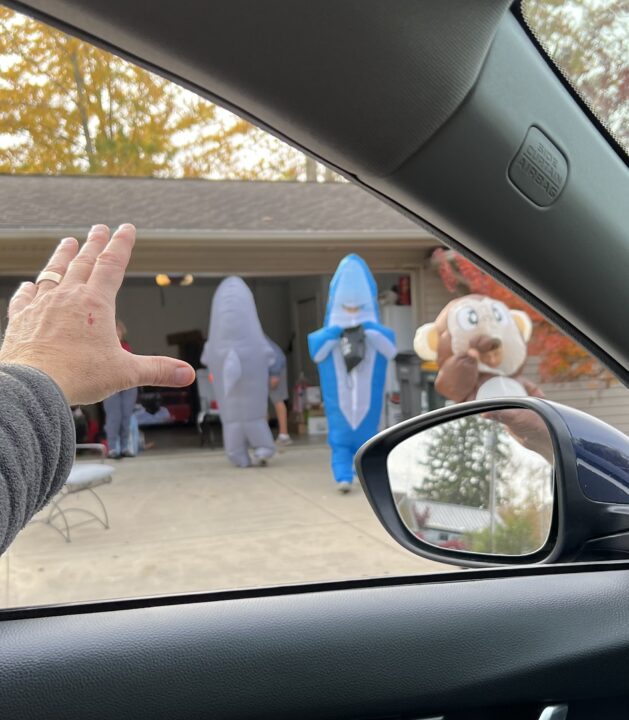 The first trick or treaters we saw, were the three in this photo. A trio of odd friends, a blue whale, a great white shark and a very large chipmunk! We laughed at their little legs running to the candy, and the appropriateness of their costumes, since we're on water, not sure about that chipmunk!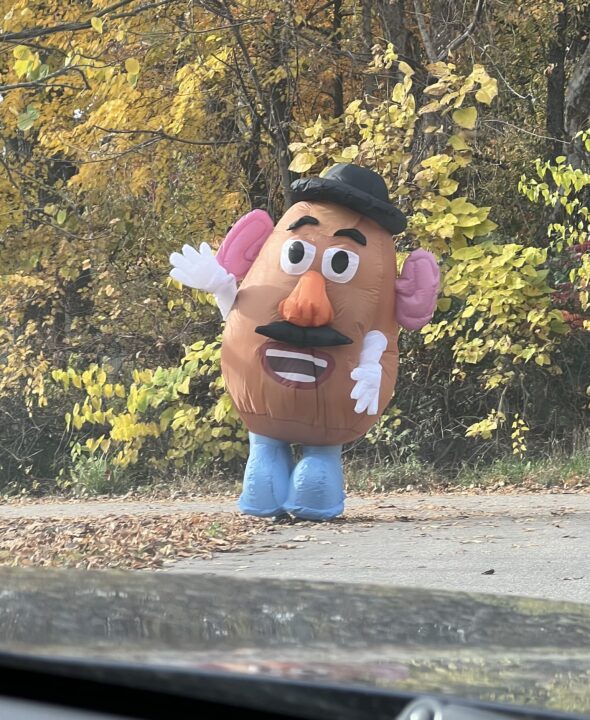 On the way back to our cottage, we next saw a large Mr. Potato head waving "hello" as we passed by, and yes, of course we waved back! I must say, the kids were really getting into it this year, it makes me smile just thinking about their enthusiasm.
Last but not least, is our favorite photo. The kids were thrilled to be out and trick or treating, the parents and grandparents both were walking or riding with them, and the enthusiasm around the entire lake, from everyone who participated was priceless. I can't believe we missed it, but that won't happen next year!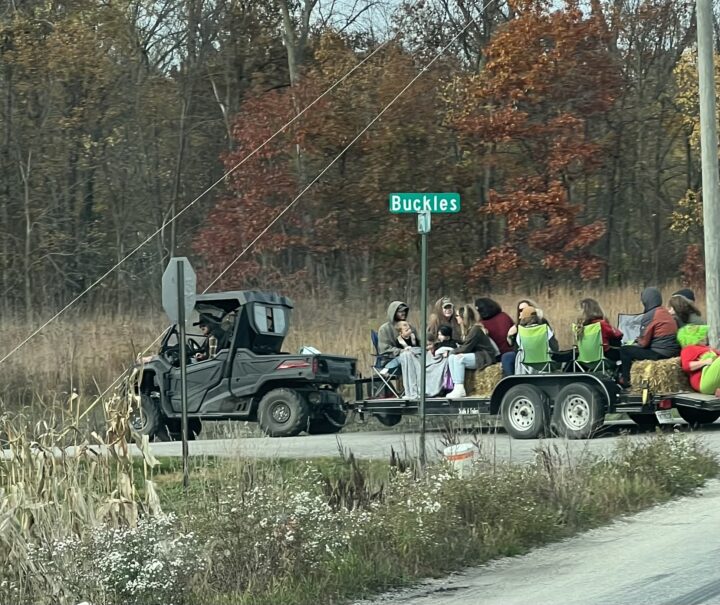 If you had to vote, which photo would be your favorite?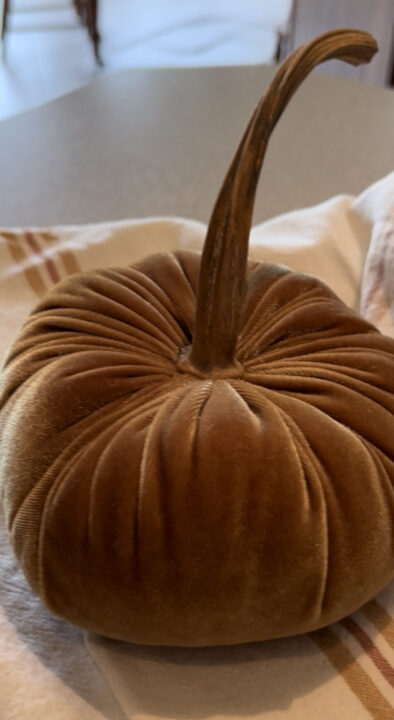 Here's another decision to ponder, what type of pumpkins do you like to decorate with for fall decor in your home?
Real or faux?
Traditional orange, colors, cloth, plastic or ceramic?
For the past few years, I've been making pumpkins for myself, and I've sold them in an antique shop, antique fairs and in Craft fairs. Thousands of pumpkins….NO, I am not exaggerating.
So, if you and I made our own pumpkins this year, what type of look would you prefer?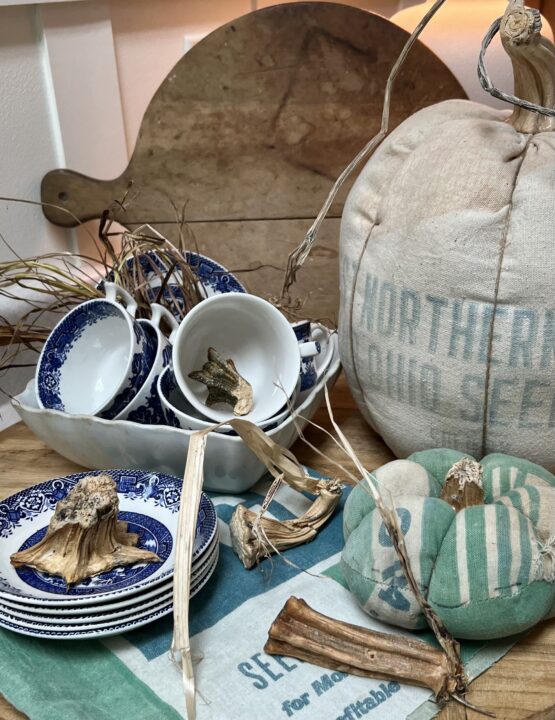 The above photo features a couple of my grain sack and feed sack pumpkins, both were made to sell at an Old Settlers Fall Festival last month.
I'm always looking for materials to make my pumpkins. I use Velvet, which I order, vintage tea towels, grain or seed sacks, and flour and sugar sacks which all make interesting and durable pumpkins.
I use real stems until I run out, then sticks or corn cobs will suffice.
This is the time of year to start gathering your ideas and materials needed, for the best Holiday Season ever.
I'm always on the lookout for unique, and unexpected items to add to my holiday decor, I feel this creates a personal, gathered and collected look, in other words, a "curated" home.
Well, I've rambled a bit, but wanted to share a few "Halloween" photos, ideas, and a few suggestions as we head into the Thanksgiving and Christmas holidays.
More to come, don't worry.
Enjoy your day,
and again, thank you for your presence and support, I do so appreciate you,
xx,