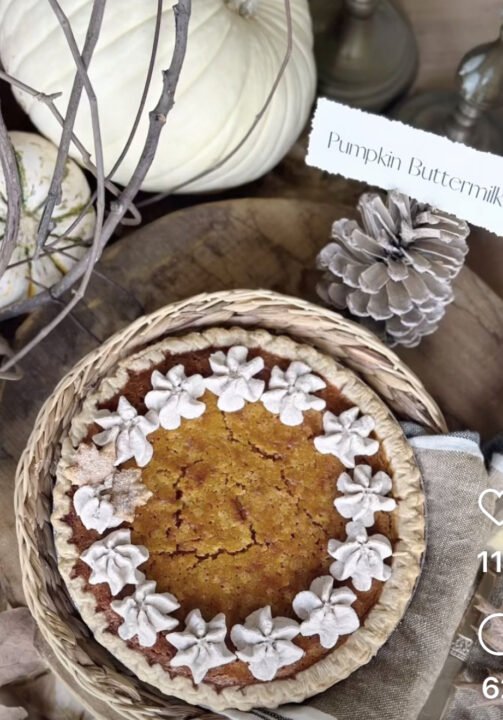 Pumpkin Buttermilk Pie recipe, from Michelle @vintagehomedesigns.com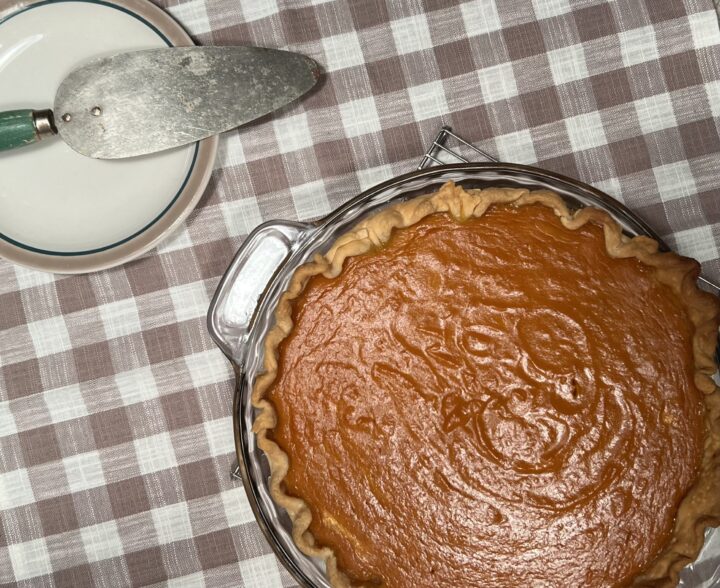 This is my Pumpkin Buttermilk Pie, cooling after baking. My recipe was not the same as hers, but it's included below. I also topped mine with whipped cream and cinnamon.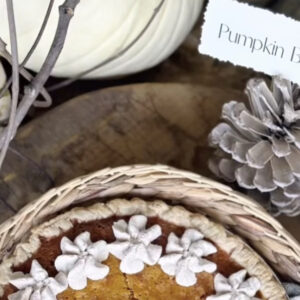 Pumpkin Buttermilk Pie
Autumn holiday/Thanksgiving dessert, easy pie
Equipment
1 oven, refrigerator, hand mixer, mixing bowls, measuring spoons, pie baking dish
Ingredients
1

Pie shell, homemade or store-bought pie crust

1/4

C.

flour

1/2

C.

melted butter

1 stick

1/2

C.

buttermilk

1 1/2

C.

sugar

3

lg.

eggs

2/3

C.

canned pumpkin

1/2

tsp.

pumpkin spice
Cinnamon Whipped Cream
1

C.

heavy whipping cream

2

tbs.

granulated or confectioner's sugar.

1/2

tsp.

ground cinnamon
Instructions
Combine dry ingredients and wet ingredients together in a mixer bowl.

Blend until well combined and smooth.

Pour the pumpkin mixture into an unbaked pie crust.

Heat oven to 350*F and bake for 1 hour.

Remove from oven and let cool completely then top with the cinnamon whipped cream.
Cinnamon Whipped Cream
Add whipping cream, sugar and ground cinnamon to a mixing bowl.

Using a stand mixer or a hand mixer, beat for 3-4 minutes or until stiff peaks form.
Notes
The blend of cinnamon with fresh whipped cream definitely takes this up a notch!
I included Michelle's pie recipe because of her twist on Thanksgiving's traditional pumpkin pie recipe. I thought the buttermilk would add a "zing" to the pie, maybe even a little bitterness, but was pleased that it did not. Very creative, and I admire that.
My pie was also quick and easy, VERY easy, I took several short-cuts but made sure to use the buttermilk and topped it with whipped cream and cinnamon.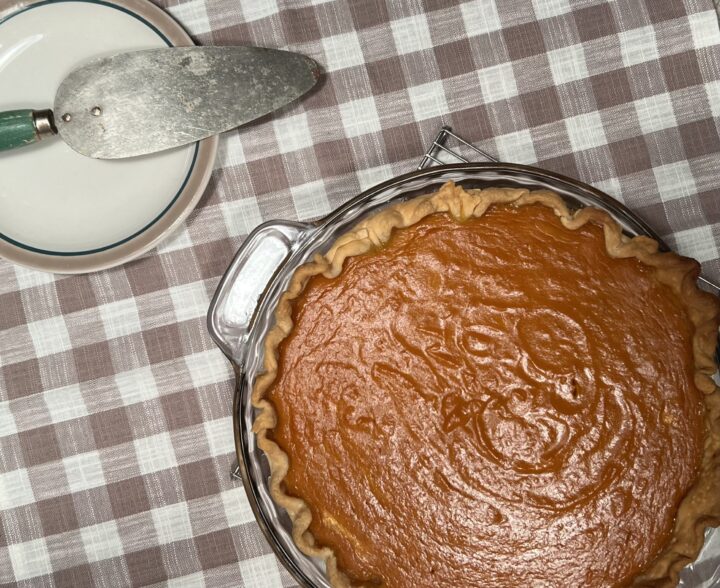 Right out of the oven, still rippled but set well after 1 hour's baking time.
*Beth's Quick Pumpkin Buttermilk Pie*:
Ingredients:
1 can of Libby's Pumpkin Pie mix, 30 oz.
2 large eggs, lightly blended (I used a whisk)
2/3 C. Buttermilk
Directions:
In a 9″ Pyrex pie pan, sprayed with Pam cooking spray, I rolled out 1 Pillsbury's Pie Crust, pre-made, and laid it carefully in the pie pan.
Bake according to directions on the can, except
I substituted Buttermilk instead of the evaporated milk (Milnot or Carnation)
The pie took an hour to bake until set, and a toothpick came out "clean", then I continued cooling it on a baking rack for about another hour.
Tomorrow morning, I'm having pie for breakfast! WITH the cinnamon whipped cream, how is that different than cereal and milk?
Hope you join me on the blog tomorrow, with your coffee cup, and you can look at the beautiful pie Michelle made, and my "attempt" to try something new.
I so admire Michelle's work that I wanted to share it with you all.
Sharing what inspires me, is important to me. Hopefully, we'll find areas that we agree on, and we can learn from each other.
Have a great week, what's left of it!
Hugs,