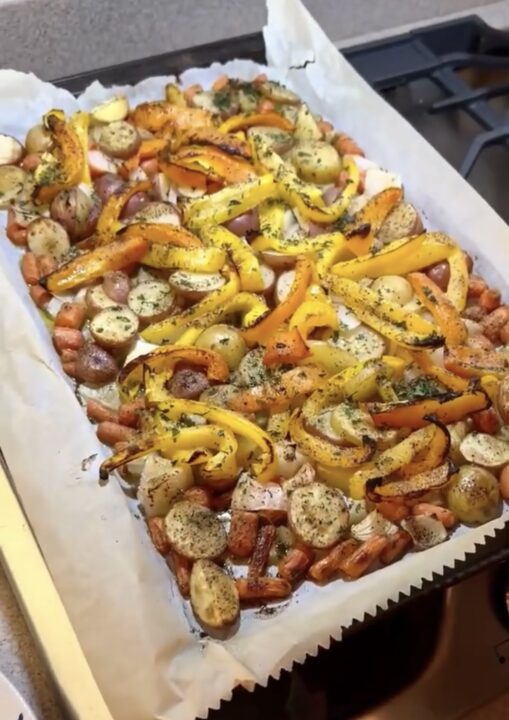 Who's cooking tonight?
As the weather starts to cool and summer is slowly fading away, this hot and hardy roasted vegetable dish is for you, it's quick and simple, with a one-pan clean up!
I love vegetables but grow tired of salads all the time. Roasted vegetables are a win for me, all of my favorites in one dish. I like to add Ricotta Cheese crumbles over my serving of veggies to add the protein.
Recipe:
Preheat oven to 425 degrees F.
line 1 9×13″ sheet pan with a 1″ rim with parchment paper
Ingredients:
Chop vegetables of your choice into similar sizes to cook evenly.
I used Baby Creamer potatoes (with the skin on), baby carrots, yellow and orange peppers, sliced into 1/2″ wide slices, yellow or white onion, large, sliced same as peppers,
I topped that with extra-virgin olive oil, drizzled back and forth over the vegetables, then sprinkled fine sea salt, cracked black pepper, Greek Seasoning, and Garlic Powder over the vegetables "to taste", (if you love garlic, add more, can't have salt, take it out, etc.)
Put your pan on the middle rack of your oven for 15 minutes, until vegetables are slightly brown on the edges, add another 1-2 minutes if needed.
Enjoy!
Note: We have some dietary requirements in our family, as many do, so it's wonderful to make a dish "just for you", and important to always consider the needs of those around your table.
I hope you try this!
During the warmer months this is wonderful with grilled fish or meats, or you can put the pan on the grill grates instead of the oven…. keeping all of the heat out of your kitchen!
Let me know if you try this, or if you have a similar dish, you'd like to share with me!
Happy Roasting!
xx,