can also be made Gluten-free.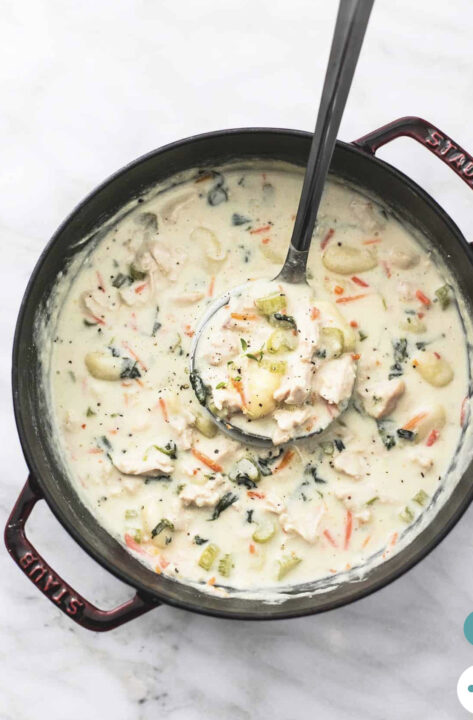 Early fall is sweater weather….in the house!
I haven't turned the heat on yet, have you?
I'm tempted, especially at night, when the temperature really drops to its lowest point of the day. But, when our house begins to warm, and the sun comes out, by noon we can't breathe in here….so I wait. For what? I don't know really, when my sweaters are all in the laundry or there's snow on the ground. Both are acceptable.
When it does begin to snow, and the furnace is happily purring away, the kitchen will warm us from the inside out, which is the most comforting way to greet late fall and winter.
Today I'm sharing an Olive Garden's favorite of ours, Chicken Gnocchi soup, and I'm including a few substitutions to remake this into a gluten-free recipe.
If you have anyone in your family with food restrictions due to their health, or you yourself are choosing to limit certain foods in your diet, this is a filling, comforting dish, and believe me, you won't feel like you've sacrificed your health for an amazing meal. It is delicious.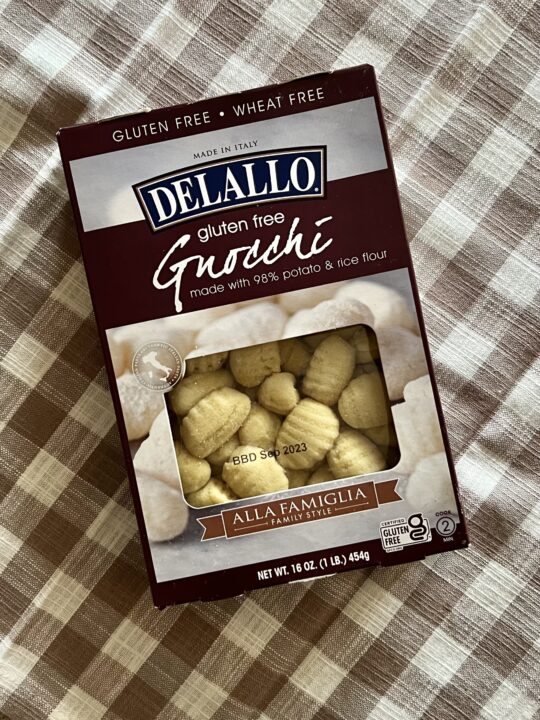 Gluten free, Wheat free, Delallo brand, Gnocchi.
Recipe from the @Mediterraneandiet.com,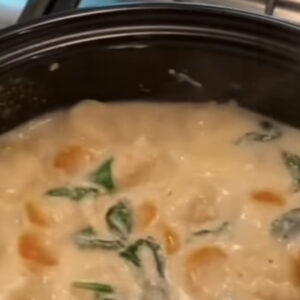 Olive Garden's Chicken Gnocchi Soup
a knock off of Olive Garden's delicious gnocchi soup, cannot get enough!
Ingredients
3-4

skinless chicken breasts, cooked and diced

boneless

1

stalk

celery

chopped

1/2

white

onion

diced

2

tsp.

minced garlic

1/2

C.

carrots

shredded

1

Tbs.

olive oil

extra virgin

4

C.

low sodium chicken broth

salt and pepper to taste

1

tsp.

thyme

16

ou.

potato gnocchi, I use gluten-free

2

C.

half and half…see note

1

C.

fresh spinach

roughly chopped
Instructions
1.Heat olive oil in a large pot over medium heat. Add celery, onions, garlic, and carrots and sauté for 2-3 minutes until onions are translucent.

2. Add chicken, chicken broth, salt, pepper and thyme, bring to a boil, then gently stir in gnocchi. Boil for 3-4 minutes longer before reducing heat to a simmer and cooking for 10 minutes.

3. Stir in half and half and spinach and cook another 1-2 minutes until spinach is tender. Taste, add salt and pepper if needed, and serve.
Notes
notes: milk: for a creamier richness, swap out 1 C. of half and half for 1 C. heavy cream.
Also, use your leftover turkey instead of chicken, after your Thanksgiving meal, still delicious.
This is addictive, it's THAT good!
Let me know if you try this, I'd hate to think that you won't; your little tribe, or your tribe of "one" is bound to go for seconds!
Stay warm and toasty friends,
xx,