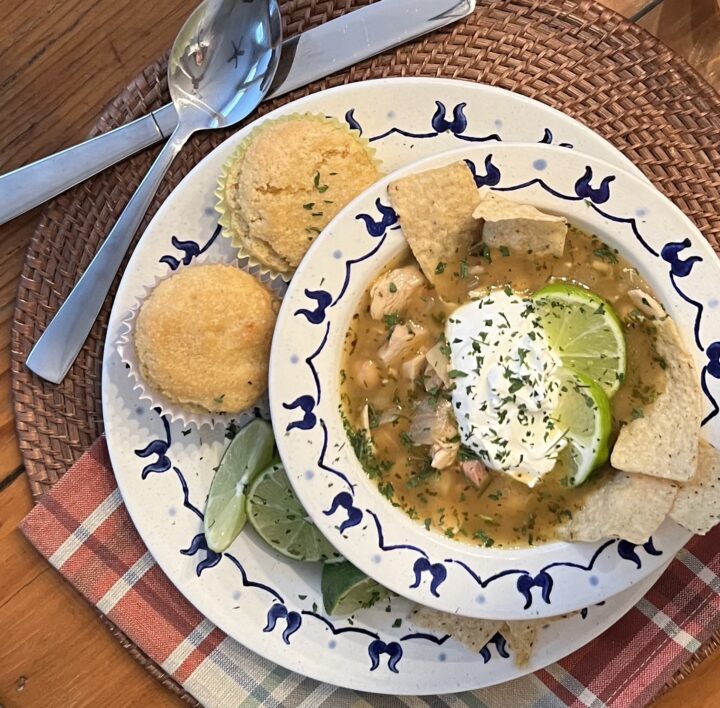 Last year, or the fall before, while my mother was living with us, I served this White Chicken Chili with cornbread muffins for "supper".
I knew she loved cornbread, and chicken and soup, so you can imagine my surprise when she said, "I thought we were having chili!" Realizing she hadn't yet had the white chili, I explained what was in it and why it was called "white chili"…. didn't matter, she didn't think it was named "correctly".
Misleading.
Even so, she was pleasantly surprised, and I was grateful.
Trying or springing new ideas or recipes, especially when it is your entire meal, can often go "all kinds of wrong" with someone who has waited for hours for her meal and is very hungry. In the photo above, I also used her favorite dishes from when she was a young mother, she noticed the dishes right away and was so touched that I used them.
So, here we are again, with cooling temperatures following one very long extremely hot summer, one for the records, I'm sure.
Fall, and everything about this time of the year, is perhaps my favorite season.
From the time I was very young, you'd find me outside playing, playing anything, climbing trees, playing in the old barn, picking weeds as flowers, swinging on swings, making houses out of tall grasses and cornstalks, or piling up leaves just to jump in, and start all over again.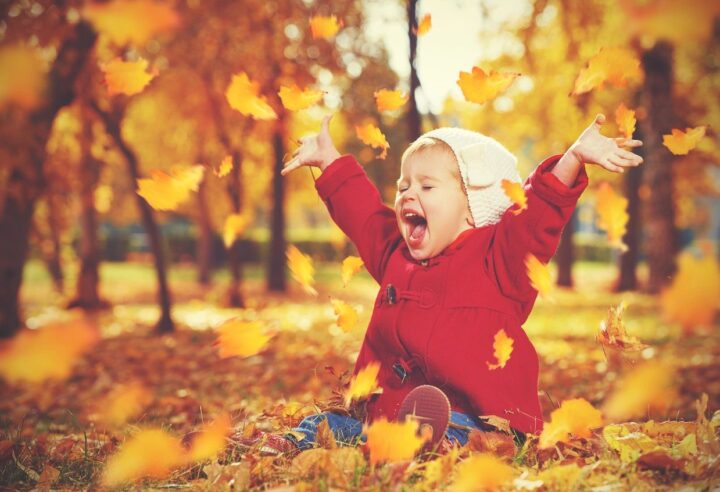 I was playing on the same lawn, in the same barn, climbing the same trees as my mother did, because this was also the place where she lived as a child.
Is it any wonder that I used the same plates that had belonged to my mother years earlier?
Right about now, I'll bet you're wondering where the recipe is for the soup!
Ha!
Good question, here we go….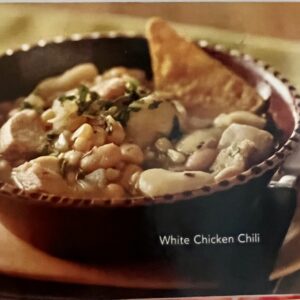 White Chicken Chili
Equipment
1 Dutch oven

4-quart size

1 stove top
Ingredients
1

Tbs.

vegetable oil

1

lg.

onion, chopped, (1 cup)

2

cloves

garlic

finely chopped

3

c.

chicken broth

1

can/11 oz.

white shoepeg or white kernel sweet corn

drained

1

can/15 oz.

great northern beans

drained

1

can/15 oz.

butter beans

drained

2

tbs.

fresh cilantro

chopped

2

tbs.

lime juice

1

tsp.

ground cumin

1/2

tsp.

dried oregano leaves

1/4

tsp.

red pepper sauce

1/4

tsp.

salt

2

C.

cooked chicken breast

chopped
Instructions
1. In 4-quart Dutch oven, heat oil over medium heat. Cook onion and garlic in oil 4-6 minutes, stirring occasionally, until onion is tender.

2. Stir in remaining ingredients, except chicken. Heat to boiling, reduce heat. Simmer uncovered 20 minutes. Stir in chicken, simmer about 5 minutes longer or until hot.
I hope you'll give this recipe a try, on a busy day this one pot less-than-an-hour from prep to serving is a game changer!
Easy.
You can use a roasted chicken, bake a couple of chicken breasts or use canned chicken, I think you'll like the ease of this dish.
Enjoy!
oh, let me know if you try it, would like to hear what you think about it!
xx,