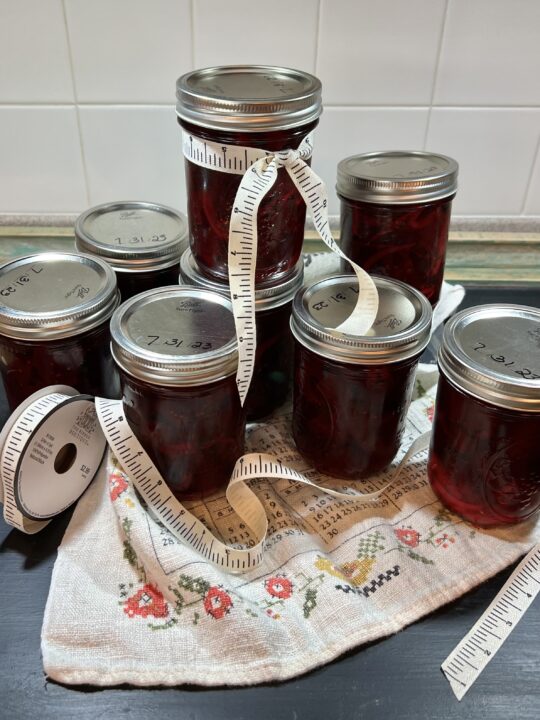 Eight pints were born from a half-bushel of red beets, freshly picked at a neighbor's garden.
Funny story…
I was invited to come "pick for yourself" all the green beans and beets I wanted. I was intrigued by the offer; I don't remember anyone growing red beets in their gardens or having the opportunity to pick them for myself.
I've grown green beans in a small garden when I was younger, and I've picked green beans for my grandparents out of their large garden. Green beans and I go way back!
Picking the beets and noticing how the large beets would rise above the soil as they grew, was fascinating to me. I first had "pickled beets" as a child in my grandmother's farm kitchen. The beets were a bright ruby red, and delicious, though the best part of Grandma's beets was the trip to the root cellar to "fetch the jars", dust them off and bring them out of the dark, damp cellar and into the sunlight. Believe me, going down into a dark cellar, not knowing "what else" may be waiting for you, it's always a huge relief to climb the steps OUT into the sunlight!
I picked the beets last week at my neighbors' garden, brought them home, trimmed and scrubbed them well, and then roasted them. When cooled, I peeled them easily, and proceeded to make Refrigerator Pickled Beets.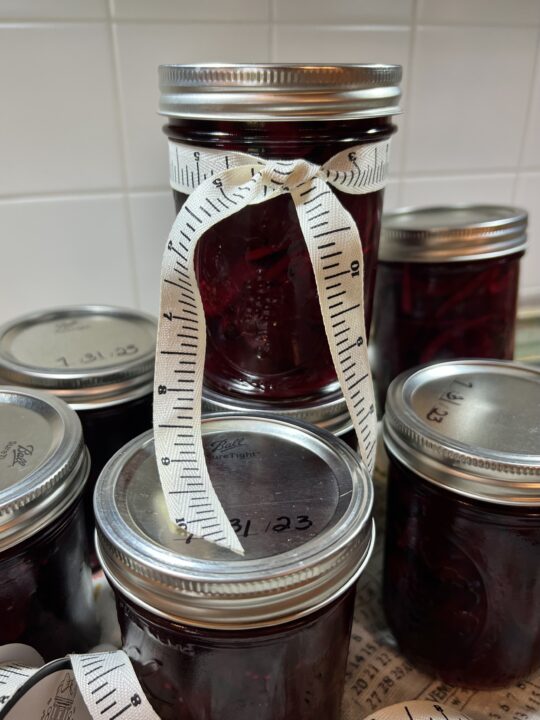 Last night we returned home from a quick trip to California.
Driving into our driveway, my husband said, " Can we taste the beets now?"
"Absolutely. Hope they're good."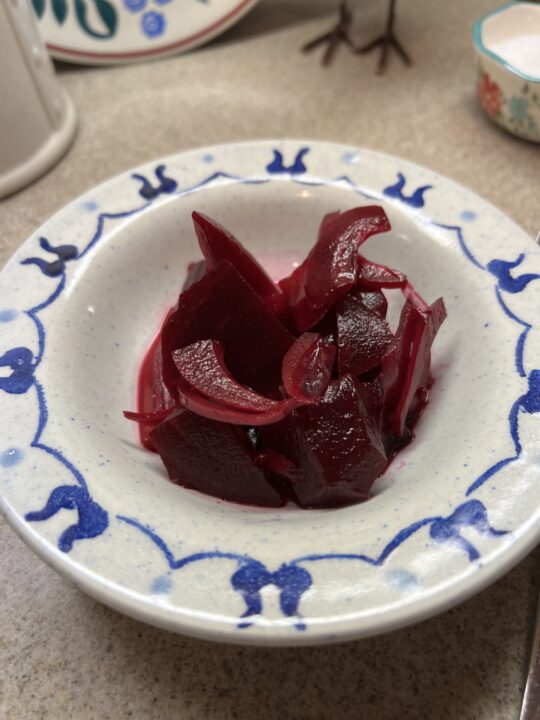 All bragging aside…. the beets are incredible! Just perfect!
Would you like the recipe?
Or should that be a separate post?
You waited too long to answer, so here we go…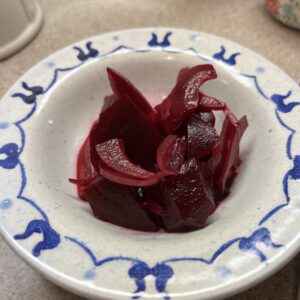 Refrigerator Pickled Beets
A quick way to save a small batch of beets, will stay fresh in the refrigerator for up to 3 months
Equipment
1 oven

1 stovetop

1 strainer

1 medium stovetop pan

1 vegetable scrubber

8 pint jars for canning

with rims and rings, all sterilized before using.

1 large and 1 paring knife
Ingredients
6-8

medium

fresh beets

1

c

sugar

1 1/2

c

white vinegar

5% acidity

1

c

steamed beet liquid

1/2

tsp

salt

2

cinnamon sticks

or 1/2 tsp. cinnamon ground

1 1/2

tsp

pickling spice
Instructions
1. Thoroughly wash the beets, cutting off the leaves but saving the stems.

2. In a wide bottomed pot, place the beets and the beet stems in a single layer and add 1 1/2 c. water or until the beets are submerged halfway in the water.

Turn the heat to high and bring water to a boil, continue boiling until the beets are knife tender.

Remove the beets from the pot and allow them to cool until able to be handled. Reserve the steam liquid to add to the pickling liquid. Peel the beets when cool. Cut into similar sized pieces and pack into sterilized pint jars.

Bring the pickling liquid up to a boil, let it boil for about 1 minute, then remove from the stove. When cool, pour over the beets in the pint jars to 1/2 inch below the rim of the jar. Wipe jar's rim dry, add the metal seal and ring. Close until just tight and sealed, no more. Store in your refrigerator for up to 3 months.

Let the jars stay sealed for up to 48 hours before serving. The longer they remain sealed the better the pickling.
If you like anything "pickled" you'll like these beets, especially with the onion added.
I sliced a large Vidalia onion, into thin strips, and had some left over from the 8 pints of beets I packed. I used leftover pickling brine, the remaining onions, with 3 little cucumbers that we sliced and added into 2 pint jars, as a test, we didn't have an actual recipe…
they were great!
Moral of that story is, use what you have left. Create something new.
Have fun with this!
It's easy, which is my all-time favorite way to cook, and the results were so good!
Let me know if you try this…not everyone is a beets lover, perhaps it's because you haven't tried my recipe yet….
Enjoy!
xx,