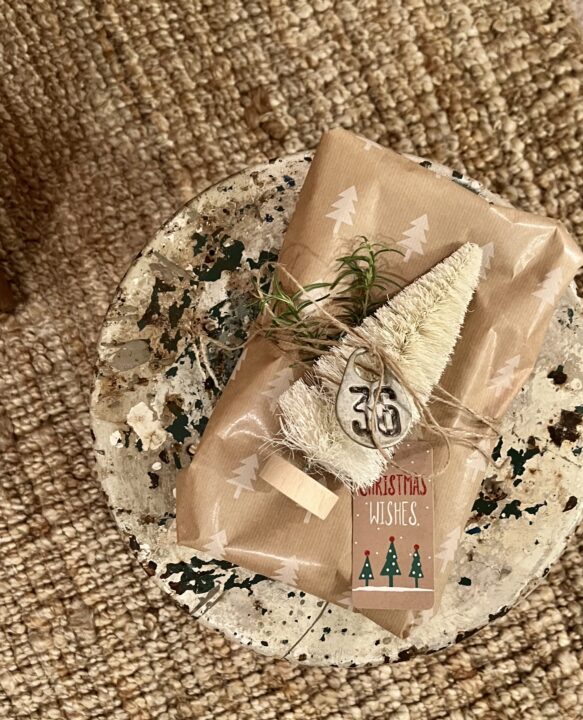 Add a few personal touches to your gift-wrapping this year!
Your gifts and the gift wrap should be as different as the recipients.
But how?
I have a few simple, and inexpensive ideas to share.
As a grandmother of ten littles, and a few not-so-little, I try to customize the wrapping to the child the gift is for. For example, for years I've mailed their gifts overseas to European countries and also from coast to coast here at home. Because of the size of the military care boxes used for shipping, my gifts were small, lightweight and could easily be packed into a fairly small box, using a larger non-military box took months for them to receive and cost a small fortune to ship. I knew I couldn't ship anything large and overly impressive, and I also knew that they'd be looking for their gift from my husband and myself, from Grandma and Grandpa. They weren't going to be overly "spoiled" in gifts, but would never feel left out or forgotten, no matter how far away they lived.
This was when I realized that they "knew" my gifts from the way I wrapped them, with or without the tags, they KNEW. They could see Grandma Beth in the wrapping…. isn't that the sweetest thing you've ever heard? It certainly made me shed a tear or two hearing about their reactions to the giftwrap, of all things!
Do you do anything different for children than you do for the adults, in your giftwrapping?
Based on what I've learned and experienced, you might want to try something new this year, they not only notice, but they'll look forward to it next year. How wonderful!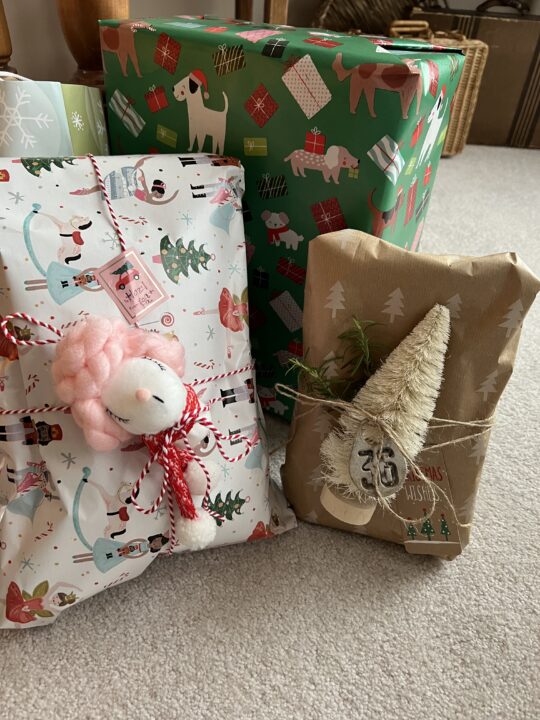 First, consider the recipient of the gift.
If it's a child, what tiny toys, school pencils, crayons and markers, or Legos are they currently playing with? Can these be used as decorative? Can you tuck them inside a bow, or can they be used as name tags?
Do they collect Christmas ornaments, or dated yearly ornaments?
When my grandsons were involved in sports programs, I purchased little ornaments shaped like basketballs, baseballs, and soccer balls. Painting their team/jersey number on the little balls, I added them to the nametag portion of their giftwrap. Obviously, this was personalized and very special, and literally cost very little time or money to make.
My granddaughters were into dance, swimming and gymnastics, not a single Barbie lover in the bunch! Again, I purchased little ornaments in those themes, added their name to the ornament, or sometimes the year, and added it to the package by securing it to the nametags or the ribbons around the gift.
Baby's First Christmas?
Never forget to order an ornament dated with the child's name on it, no later than September or October to arrive in time for Christmas. This is a keepsake that may someday hang on that child's first Christmas tree…in their own home. I order mine from Macy's here locally, choosing the best one they have. Remember, the "child" that I'm pleasing is my daughter, that tiny baby's mother. I want her to be happy with it for years, before the little one will ever notice.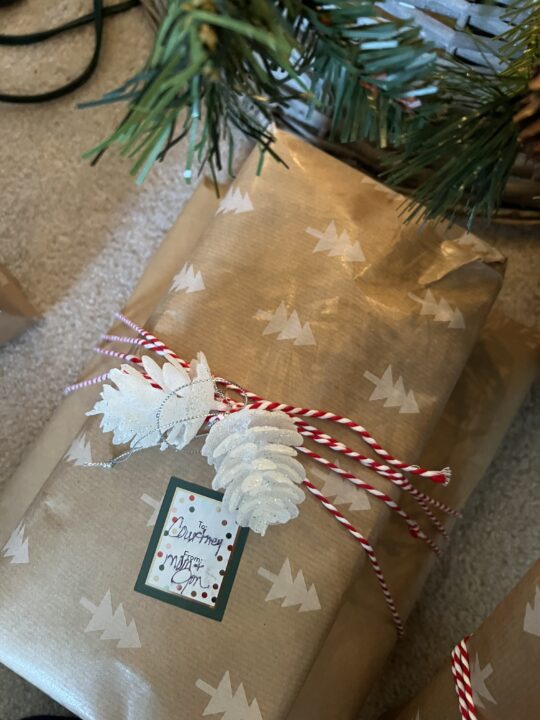 Is the gift for an adult?
Even though my children are grown with children of their own, I still like to stick a little surprise into their giftwrap; if not a little ornament that coordinates with the giftwrap, then I'll use bags of candy or small boxes of chocolates, a stick of lipstick or ChapStick, just anything small and unexpected.
It always feels good to be thought of, to be considered, that someone took time to think of YOU, no matter your age.
Also, I couldn't get my photo to upload, but for the men or older grandsons, I'll add some greenery, or a pinecone, to dress the gift up a bit.
Using the natural gifts of nature, like a sprig of pine or a small pinecone, is my favorite way to dress up a package or add to your name tags.
What are some of your tricks when wrapping a gift?
What more ways do you dress up a package?
I'd love to hear….
Remember, the gift is in the giving, the creating, and in seeing a child's eyes light up, knowing that they're loved.
As always, this season especially, I thank you for your constant presence here on my little blog, I appreciate each and every one of you,
Happy Holidays, my friend,
xx,